Pueto
In this workshop participants experience the process of lost wax casting from wax forms. Modelling techniques - including forms from moulds, carving and additive construction - will be exercised. You will be taken through all stages of the lost wax ceramic shell casting process, ceramic shell application, spruing systems, bronze pouring, and fettling . You gain a "hands-on" knowledge of the process by contributing labour to the production line. This workshop is for people wishing to explore creative work in Bronze while consuming high quality organic food with the emphasis on rest and relaxation. Forms created are within the allowed quota of bronze and casting materials. Thirteen kilos of bronze will be allowed for each participant. The workshop is open both to beginners and those with some experience.The hands-on approach is one of the easiest ways for people to learn the very interesting process of creating bronze works. Be prepared for hard work and heaps of fun.
Pueto Group 2005

A woolshed is the foundry venue for the duration of a nine day wax to bronze workshop/retreat.
the empty shed
Transforms into an hive of activity where waxes are made, sprued and shelled in the lost wax method of casting
moulds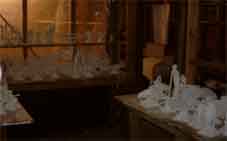 Once the mould is sufficiently thick, the moulds are placed in a kiln for "burnout", where moulds are slowly heated to between 1000 and 1250 degrees F, and held at that temperature until all wax residues have disappeared. The place where the wax was, is now a void (hence the "lost wax" term for this process) to be filled with the molten bronze.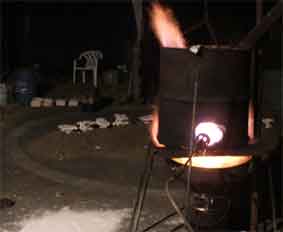 artcast survives through it's "pour" service !!!
process | gallery | services | information | about artcast | related links | artcast home